1895 Roper Steam Velocipede - thevintagent.blogspot.ca
Throughout the centuries, man has endeavoured to expand his world through the use of machines.
Man's ever-innovative and inquisitive mind, coupled with his need to find new thrills and adventure, means the development of the motorcycle was inevitable. The early years of motorcycling are fascinating as they offer up some of man's most bizarre experimental machinery!
Sylvester Howard Roper built the first motorcycle in 1868. It was powered by a steam engine, and was demonstrated at fairs and circuses.
Many modern motorcycle features, including the twist handgrip throttle control, evolved from the innovations on this machine.
By the late 1880s, motorcycle development became influenced by the internal combustion engine that had arrived on the scene.
Hildebrand & Woflmuller developed the first production motorcycle in 1894, and theirs was the first vehicle of its type to use the term "motorcycle".
Hildebrand & Woflmuller
Deeley Motorcycle Exhibition
Hildebrand & Woflmuller
Deeley Motorcycle Exhibition
In 1901, Royal Enfield revealed its first motorcycle; it came with a 239 cc front-mounted engine and a belt drove the back wheel.
From 1901 on, the burgeoning sport of motorcycle racing fueled innovations at a fast and furious pace and as a result, hundreds of motorcycle companies sprang up around the world.
Even Canadians got into the act of producing motorcycles.
The CCM (Canadian Cycle & Motor Company) produced the Lightweight Motor Cycle from 1908 to 1911, there are only three known left to be in existence and one of them is at the Deeley Motorcycle Exhibition in Vancouver.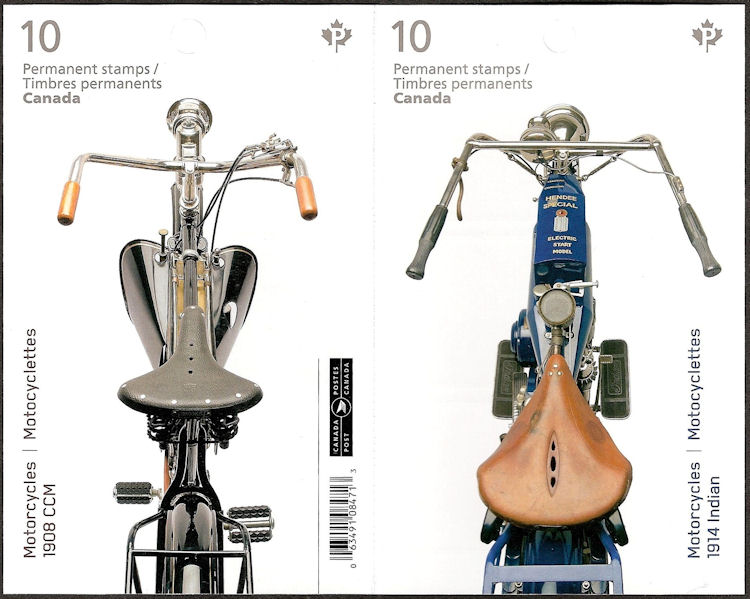 Canada Post
In 1912, Toronto's Mercer Street was home to the Hendee Mfg. Co production plant. (In 1928, Hendee Mfg. Co. became known as Indian)
During the First World War, motorcycles began to replace horses on the battlefield. Dispatch riders carried communications pouches and performed reconnaissance missions.
Triumph Motorcycles provided the allies with over 30,000 of its newly created Type-H bikes in World War I. Dubbed by many as the first "modern" motorcycle, the Model H by Triumph was the first motorcycle to be produced without pedals.
By 1920, Harley-Davidson had become the largest manufacturer of motorcycles with dealers in 67 countries, although it lost that spot for a number of years to German owned DKW in early 1930.
After World War II, as part of the reparations for the war, Harley-Davidson in the US, BSA in the UK and MMZ in Soviet Union were given the plans for the DKW RT125.
In the US the motorcycle became known as the Hummer, in the UK as the BSA Bantam and in Soviet Union as the M-1A Moskva.
Although many manufacturers in the US had sprung up to build and sell motorcycles, by 1931, only Harley-Davidson and Indian were still standing.
From 1931 until Indian closed its factory in Springfield Mass., and Royal Enfield took over the name in 1953, Harley-Davidson and Indian were fierce competitors.
From: harleyhummer.com
Here is a short list of some of the oldest American motorcycle marques:
Indian (1901-1953)
Pierce Arrow (1901-1913)
Curtiss (1902–1910)
Harley –Davidson (1903-present day)
Excelsior (1907-1931)
Iver Johnson (1907-1916)
Henderson (1911-1931)
Ace (1920-27)
Crocker (1936-1941)
The early 1900's were an exciting time for the fledgling motorcycle community in Canada and Harley-Davidson Motorcycles played a huge role in that excitement and the growth of motorcycling as a sport and a pass time.
In 1907, Vancouver BC became home to the very first gas station in Canada; it was an Imperial Oil station. This would prove to play a significant role in the growth of motorcycling in Canada, and BC in particular, as the lower mainland of BC and Vancouver Island became hot beds for the sport.
In 1912, the Victoria Motorcycle Club became one of the first motorcycle clubs in Canada.
In 1913, Fred Deeley Sr. moved to Vancouver from Bromgsgrove England. In 1914 he opened a bicycle shop. He began importing BSA (Birmingham Small Arms Co) motorcycles.
In 1917 he began importing the Harley-Davidson motorcycle. It was around 1922 when the bicycle and motorcycle portions of the Deeley business became separate entities.
Fred Deeley Jr. founded the Lions Gate Motorcycle Club in 1922 and took over operations of the motorcycle division of Fred Deeley Motorcycles in 1925. Today the Lion's Gate Motorcycle Club is known as the Greater Vancouver Motorcycle Club.
In 1935, 15-year-old Trev Deeley joins his father's business as an apprentice mechanic.
In 1953, he takes over the business. Today, Trev Deeley Motorcycles is the fourth oldest Harley-Davidson dealer in the world.
Without a doubt, motorcycling in Canada would not have evolved into what it has today if it had not been for the Deeley's, Fred Sr., Fred Jr. and Trev.
Some historical tidbits on the expansion of motorcycling in Canada:
1919, the first retail dealership in Alberta opens up in Edmonton
1936, Prairie Harley-Davidson opened up in Regina Saskatchewan under the helm of Grant Budd.
1945, London Ontario becomes home to a Harley-Davidson dealership thanks to Percy Poole.
1949 Laurent B. Groulx opened Pont-Viau Motorcyclettes in Ville de Laval, Quebec, Quebec's first Harley-Davidson dealership.
1969 was a year that would change many things in the Canadian Motorcycle Community. It was the year that Honda Motorcycles officially entered the Canadian market!
1973, both Yamaha Motors Canada and Suzuki Canada are founded.
1973 is also the year that Deeley Harley-Davidson became the official importer and distributor of Harley-Davidson motorcycles in Canada
I hope you enjoyed this little history lesson.


Community Futures of Alberta,
Belt Drive Betty Media, EastLink TV and a whole host of motorcycle media sponsors have gotten together to create over $60,000 in marketing packages to be shared by 12 communities!

The Grand Prize is a $35,000 marketing campaign!
It truly will be a contest of Exploration, Discovery & Community Pride!
Belt Drive Betty
Editor & Rider
Resources for this article:
The Vintagent
Wikipedia
Wilson, Hugo (1995). The Encyclopedia of the Motorcycle. Dorling-Kindersley
Deeley Harley-Davidson Canada
Hope 1842 dot Com
Harley Hummer dot Com
Honda Canada
Yamaha Canada
Suzuki Canada
Ian Chadwick dot Com
Canadian Motorcycle Hall of Fame
Allan Johnson, CVMG
Terry Rea, Motorcycle Historian
Disclaimer:
All data and information provided on this site is for informational purposes only. The Belt Drive Betty Blog makes no representations as to accuracy, completeness, currentness, suitability, or validity of any information on this site & will not be liable for any errors, omissions, or delays in this information or any losses, injuries, or damages arising from its display or use. All information is provided on an as-is basis.