Motorcycling in Canada - A Ride Through Our History - Part 5
Ontario has had a very interesting relationship with the motorcycle!
In 1834, Toronto became the new name for York. The name was officially changed because of the number of communities in the region named York, not to mention the county that the town was located in! In 1879, manufacturing in Ontario began to boom largely due to the high tariffs placed on American made goods. The great fire of 1904 set things back a little in Toronto, but the opening of the Canadian Pacific Railway further spurred on the economic growth of the region.
By 1912, Hendee Manufacturing had opened a plant on 12 Mercer Street in Toronto.
Yes, for a short period of time in history, Indians were produced in Canada!
But let's step back to 1910 - a year that saw two of Canada's best racers hit the scene.
Ted Sturgess
In 1910, the oldest motor cycle dealership in Canada, Sturgess & Sons Motor Cycles opened in Hamilton ON.
Young Ted Sturgess became one of Canada's most successful dirt and road race riders.
Invited in 1939 to race in the English National League, Ted returned home at the outbreak of World War II.
He served for four and a half years in the RCAF and then went on to win many more Canadian titles on his motorcycle.
Sturgess & Sons Motor Cycles


Harold Cole - Canmoto.ca
Also in 1910, a young man named Harold Cole bought his first motorcycle, a 500 CC Yale.
His very first action was to take the bike to the racetrack, a dirt oval in Exhibition Place in downtown Toronto.
He was 15 years old and none of the other racers would let him compete at either Exhibition Place or Scarborough Beach, but he made the best of it by practising, a lot.
1911 was a big year for the 16 year old Cole. His first race in Waterloo, he won the heat and the three mile final, then, on a loaned Indian a week later, he won at Exhibition Place. During the Canadian National Exhibition in late August of 1911, he set a five mile record then he won a 25 mile event winning the Commeford Cup and the Dominion Championship!
By 1913, Harold Cole had become a dominant figure in racing in eastern Canada and having beaten Joe Baribeau paved the way for him to be paid $500 by the Toronto Motorcycle Club to race exclusively in their events. It didn't hurt that he ended up winning a similar amount in prize money!
The outbreak of the First World War in 1914 put an end to the racing career of Harold Cole.
As with British Columbia, Vancouver and Vancouver Island in particular, where shipping made motorcycles easier to obtain than in the prairies, Ontario became a hotbed for the motorcycle rapidly. Manufacturers began seeing the value in forming motorcycle clubs to promote their brands and the first of these types of motorcycle clubs to open in Ontario was the British Empire Motorcycle Club in 1928.
Graham Oates was the first elected president of the British Empire Motorcycle Club.
Graham Oates with his Ariel and Sturgess built sidecar modified to ride the rails.
Born to John Oates and Mary Graham, on January 18, 1897 in Douglas, Isle of Man England, James Walter Oates, or Graham as he was called, was born to promote motorcycle racing.
He moved to Canada in 1927. and served as the vice president for a company called Overseas Motors on Danforth Ave. in Toronto. They imported Rudge-Whitworth, Ariel, Coventry Eagle and Matchless Motorcycles.
Graham rode despatch in both World War I and II. (During World War I on a horse and in World War II on a motorcycle.) In fact, he created a training program for despatch riders during World War II.
He is also the same man who not only rode an Ariel with a side car built by Sturgess & Sons Motor Cycles, right across Canada setting a number of firsts, but he is also the first person credited with riding a motorcycle and sidecar to Fort Churchill (the place of my birth). That trip also made him the only person to ever reach the Hudson's Bay with a motorized, rubber tired vehicle of any kind.
Graham's illustrious career included him being a medalist of the International Six Day Trials from 1933 to 1939.
Toronto and Hamilton are not the only communities from this era who produced or housed famous riders of the day.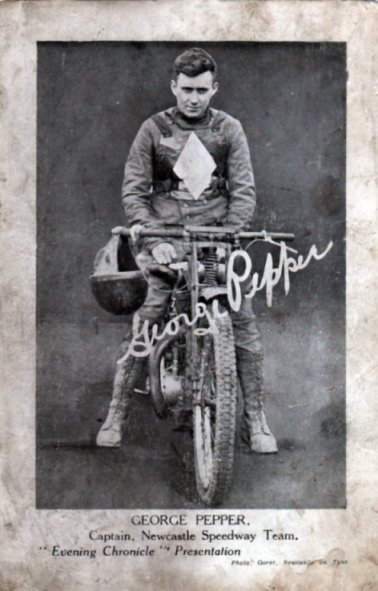 From Newcastle Speedway
Belleville Ontario is home to one of Canada's preeminent racers of all time. George Pepper was elected as the president of the Quinte Motorcycle Club in 1933 at 18 years of age. He had after all competed in the AMA's very first 200 Mile road race in Savannah Georgia in 1932 and competed in the Ontario Tourist Trophy earlier in the year.
In 1936, Belleville sited the Canadian Championship 200 road race. It drew over 20,000 spectators and 35 of the top racers of the day. Starting in 8th position, George rode his single cylinder Norton to first place, 3 laps and was nearly 10 minutes ahead of the Harley factory rider, Babe Tancrede who had started in first.
After a disappointing series of races on the Isle of Mann in 1937, he ended up being invited to compete in the English Speedway Races where crowds could swell to 60,000 and winnings could reach $400 a week.
During World War II, George became a commissioned pilot with the RAF in 1941 and like on the track, he did it with the highest possible scores a pilot could receive. He was awarded the Distinguished Flying Cross in 1942. He and his crewman had shot down 18 enemy bombers, (3 of them in one night raid) in 12 months. George died in November of 1942 during a test flight. His ashes were returned to Canada and he is buried in Belleville cemetery.
Interesting Historical Tidbits:
1894 - Toronto Police Service is the first in North America to use bicycles for patrols


In 1901 - Newmarket ON, seeing a gas powered motorcycle was an oddity that people felt the need to gawk at.

1904 - Walkerville Ontario, Henry Ford establishes Ford of Canada. This was a completely independent company from the American company although it relied on the American company for engineering and design.

1911 - Toronto Police Service is the first to use motorcycles in Canada.

1916 - The Centre Block of the Parliament Buildings is destroyed by fire.
1922 - With over 180,000 vehicles on the roads in Ontario, the OPP which were formed in 1909, were already using motorcycles to patrol the highways. Motorcycle officers had to supply and maintain their own bikes!
1927 - The Peace Tower opens alongside the fully rebuilt Centre Block of the Parliament Buildings. This is also the year that Canada celebrates the 60th Anniversary of the Confederation.
1939 - The National War Memorial is unveiled by King George the VI and Queen Elizabeth.
1946 - The first drive in theatre in Canada opens in Stoney Creek Ontario and could hold 750 cars.
1949 - Newfoundland becomes the 10th province of Canada.
Today 13.5 million people call Ontario home. there are over 223,000 registered for highway use motorcycles in Ontario.
I hope you will join me next time as we look at Quebec's history with the motorcycle.
If you are blessed to be riding today, please remember to ride like everyone around you is blind and cannot see you.
And don't forget - Canada's MOST Rider Friendly Community Contest - we are on the hunt for that one community that really welcomes riders...where is it? Help us find out....
Belt Drive Betty
Editor & Rider
Research for this article:
Toronto Police
Canadian Motorcycle Hall of Fame
OPP Museum
In Search of the Canadian Car
"Isle of Man Births and Baptisms, 1607-1910," database, FamilySearch
Allen Johnson CVMG
Canadian Motorsport Hall of Fame
Archives Canada
Newcastle Speedway
Sturgess & Sons Motorcycles
Disclaimer:
All data and information provided on this site is for informational purposes only. The Belt Drive Betty Blog makes no representations as to accuracy, completeness, currentness, suitability, or validity of any information on this site & will not be liable for any errors, omissions, or delays in this information or any losses, injuries, or damages arising from its display or use. All information is provided on an as-is basis.